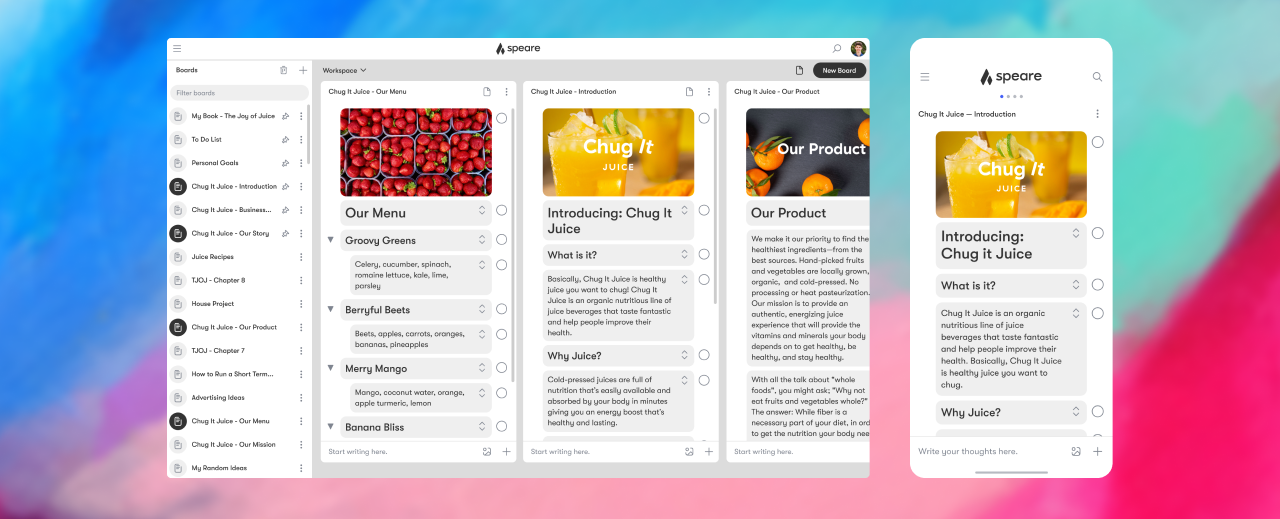 Harnessing the power of the brain
"In the fields of observation, chance favors only the minds that are prepared." - Louis Pasteur
What was the promise of technology?
To give us more freedom and flexibility to use our brains to be more creative.
What are some problems hindering our creativity?
Knowledge management
.
Knowledge management is a fundamental problem facing us all today.
Process management. According to IDC data, "the knowledge worker spends about 2.5 hours per day, or roughly 30% of the workday, searching for information." That's the equivalent of losing one whole day of work a week just searching for content.
Tools management. On average, half a dozen or more technology based tools are "required" for problem-solving. Note-taking apps, brainstorming apps, mind-mapping tools, outlining apps, content management tools, word processors, and platforms for communicating ideas just to name a few.
So, what kind of tool might reduce the problems and help us harness the power of our brains?
To combat these problems above, we decided to create a new kind of technology that would deliver on the promise of tech —
"To give us more freedom and flexibility to use our brains to be more creative."
We call it, "the Thought Processor"
.
The Thought Processor
A "Working Knowledge" Management Platform/Thought Library

Organic. Grow working knowledge by capturing and refining thoughts, experiences, ideas, knowledge and understanding throughout the day, every day. Working the way we're wired to create things.

Centralized

. Keep your working knowledge accessible in one place in the cloud.

Eliminates wasted time searching

Synced. Access and grow your working knowledge from anywhere (at home, school, work, play) from any device (smartphone, tablet, smartwatch, Chromebook) or computer (Mac, PC) that you log into.

Secure. Using Advanced Encryption Standard 256 bit encryption to protect your data at rest.

Same encryption method used by Fortune 1000 companies and government agencies around the world.

A Design Thinking Interface



A universal system designed and used by some of the most creative people in the world to inspire the creative process.

Sticky Notes = Building Blocks

Movable Whiteboards = Side-by-side Boards

Walls = Spaces

Collaboration = Messaging

An Intuitive Thought Process



How do we go from nothing to a creative solution?

Record information

Speare helps you build a personal knowledge bank of information—facts from outside sources and experiences; as well as your thoughts and ideas connected with those facts.

Organize information

Speare gives you the ability to organize individual chunks of information easily. This is essential to the learning that happens when you analyze and evaluate information.

Access information

Speare lets you search your personal knowledge bank/thought library at the micro-level. Enter a word or phrase and Speare searches every thought in seconds revealing your working knowledge of that subject.

Revise thoughts and ideas

Revisiting previously recorded thoughts sparks new ideas that lead to improving and expanding the thought on the subject at hand or can even lead to addressing a completely different subject matter altogether growing your thought library.

Repurpose your thoughts

Take specific knowledge and utilize it in other contexts to create something new.

Compile your thoughts

Fully immersed into your thoughts so you can pull them together to create content.

Other Functions

Project Boards

Text-to-Speare

Posting

A Path to Thought Leadership

5 Things Every Thought Leader Does

"The best investment you can make is in yourself. The more you learn, the more you earn"-Warren Buffett

Consumes knowledge daily

Collects and organizes thoughts, ideas, knowledge throughout the day

Prioritizes developing their ideas and making idea connections

Strengthens good thinking and writing skills

Strives for methodic knowledge acquisition
Speare, short for Shakespeare because it makes short work of thinking and writing.